From: Dillwyn (Buckingham County)
To: Wilderness (Orange County).
Total Length: 89.41 miles
ROUTE LOG
US 15: 0 - 0
Albemarle-Buckingham Line: 19.05 - 19.05
VA 6 EB: 0.29 - 19.34
VA 6 WB: 0.58 - 19.92
VA 53: 16.89 - 36.81
VA 388: 0.39 - 37.20
I-64 (exit 121): 0.15 - 37.35
Charlottesville-Albemarle Line: 0.24 - 37.59
US 250 Bus WB: 1.04 - 38.63
US 250 WB, US 250 Bus END: 1.01 - 39.64
Albemarle-Charlottesville Line: 0.06 - 39.70
US 250 EB: 0.20 - 39.90
Orange-Albemarle Line: 13.55 - 53.45
US 33 EB: 1.30 - 54.75
US 33 WB: 0.22 - 54.95
VA 231: 5.63 - 60.48
VA 20 Bus: 6.23 - 66.71
US 15 NB: 0.15 - 66.86
US 15 SB: 0.17 - 67.03
VA 20 Bus: 0.66 - 67.69
US 522: 8.33 - 76.02
VA 3: 13.39 - 89.41

Creation: Appeared July 1933 as a renumbering of VA 316 from US 15 Dillwyn to SC 6 Scottsville. A separate piece of VA 20 replaced VA 702 from VA 231 Somerset to VA 3 Wilderness. This is the 2nd VA 20.
Adjustments: In Sept 1934 (CTB), the northern piece of VA 20 was extended south to a mile short of Barboursville.
In April 1937 (CTB), VA 20 was removed from SR 671 Narrow Gauge Rd east of current US 522.
In Aug 1937 (CTB), VA 20 was removed from the lengthy SR 695 north of Centenary.
In May 1939 (CTB), VA 20 was removed from SRs 699-700 north of Dillwyn and SR 704 south of Centenary.
In July 1940 (CTB), the southern piece of VA 20 was extended through Scottsville with VA 6, then northeast replacing some of SR 726 for a distance of 5 miles.
Also in July 1940 (CTB), VA 20 was removed from SRs 722-622 south of Centenary as well as SR 659 at Ranson.
In Aug 1941 (CTB), the northern piece of VA 20 was extended south to US 33 Barboursville.

VA 20 northern piece
1933 Official


VA 20 extended west
1936 Official


VA 20 extended to Barboursville
1944 Official

Also in Aug 1941, the southern piece was extended north over SRs 726, 620, and 627 to VA 239 Simeon, then replaced VA 239 to end at US 250 (Market at 2nd) in Charlottesville.
In July 1947 (CTB), VA 20 was rerouted at Scottsville to run via Keene to Charlottesville (replacing SR 613). The old route became SR 795 and part of VA 53. Note that VA 53 has since been rerouted and VA 20 used SR 1102 Michie Tavern Rd and Monticello Rd on the other side of I-64.

VA 20 southern piece
1947 Official


VA 20 extended north
1947 Official


VA 20 and SR 613
1947 Official


VA 20 moves to SR 613 alignment
1948 Official

In Nov 1948 (CTB), US 250 was rerouted in Charlottesville, changing VA 20's northern endpoint to Market and 7th.
In March 1950 (CTB), VA 20 was removed from Monticello Rd placed instead on Monticello Ave and Avon Rd in Charlottesville.
In May 1950 (CTB), VA 20 the southern piece of VA 20 was extended with US 250 east through Charlottesville, then replaced SR 613 to Barboursville, connecting the two segments of VA 20.
In Nov 1952 (CTB), VA 20 was removed from SR 747 south of the James River.
In Oct 1953 (CTB), VA 20 was removed from SR 720 at Wilderness. This moved VA 20's north end from just inside Spotsylvania County to its current location.

VA 20 originally in Spotsylvania County
1935 Spotsylvania County


VA 20 segments finally connected
1951 Official

In March 1956 (CTB), VA 20 was given its bypass of Orange CH, leaving behind VA 20 ALT (now VA 20 Business). See scans under va 20 ALT entry.
In Oct 1958 (CTB), VA 20 was removed from SR 2005 (now just Waugh Blvd) and SR 665 (now SR 2013 Black Run Rd) just east of Orange CH.
In Jan 1962 (CTB), VA 20 was removed from Free Bridge Ln and Elk Dr. just east of the Rivanna River, doubling its US 250 duplex.

In Nov 1963 (CTB), VA 20 received its bypass of Unionville, leaving behind more SR 671.
In Oct 1965 (CTB), VA 20 was removed from SR 738 through Barboursville.
In Jan 1967 (CTB), VA 20 was given its bypass of Rhoadesville, leaving behind SR 741/743; also VA 20 was removed from nearby SR 742 Strawberry Hill Rd. and SR 740 Rows Mill Rd
In May 1969 (CTB), VA 20 was rerouted approaching Scottsville over its current James River crossing. The original route was SR 783 Snowden Rd and Ferry St in Scottsville. VA 20 then duplexed with VA 6 west to Valley St.
In Jan 1971 (CTB), VA 20 was shifted westward at the I-64 interchange. South of I-64 became part of VA 317, while north of I-64 became Monticello Rd/Druid Ave.
In March 1987 (CTB), VA 20 was removed from SR 668 Old Somerset Rd and a brief VA 231 duplex near Somerset.
In Apr 1998 (CTB), VA 20 was removed from SR 874 Woodchuck Lane a couple miles south of VA 53.


VA 20 original Scottsville routing
1958 Fluvanna County

Improvements: The northern segment of VA 20 was fully paved upon designation
In 1937, VA 20 was paved from Scottsville south a few miles.
In 1939, the rest of VA 20 south to US 15 became fully paved.
In 1941, VA 20 was paved on its replacement of VA 239 from Simeon to Charlottesville.
In 1947, VA 20 became fully paved between Scottsville and Charlottesville and therefore fully paved everyhere.
VA 20 is multilane only from VA 53 to downtown Charlottesville, since about 1971.
Posted: Fully posted; the lsat known cutouts were in Orange CH area and were removed about 2005.
Error US 20 shields have existed in Orange CH at southern VA 20 Bus junction that were present for about 15 years before finally being corrected; also a short-lived error US 20 shield assembly existed near Montpelier.
Multiplexes: VA 6 (0.58 mi)
US 250 Bus (1.01 mi)
US 33 (0.22 mi)
US 15 (0.17 mi)
Legislative names: Constitution Route (entire route), since 2-6-76.
Other names: Valley St (Scottsville); Scottsville Rd (Albemarle Co s of Charlottesville); Monticello Ave/Avon St/9th St/High St/Long St (Charlottesville); Stony Point Rd (Albemarle Co n of Charlottesville); Main St/Caroline St/Berry Hill Rd (Orange CH)
Scenic Byway: Scottsville to Charlottesville (since 8/19/76); Charlottesville to Orange CH (11/19/87)
Comment: VA 20 is a well-improved route everywhere except from US 250 to US 33.
VA 20 serves Montpelier (James Madison's Home).
The first deer I'd ever struck with a car was crossing VA 20 south of Orange.
The 1939 VDOT report on primary system development had recommended that VA 20 be decommissioned from Dillwyn to Scottsville.
Previous VA 20's:

1932 ROUTE LOG
VA 23: 0 - 0
VA 222: 11 - 11
VA 219: 12 - 23
US 311, VA 33: 11 - 34
VA 204: 3 - 37
US 29, VA 14: 37 - 74
VA 303: 21 - 95
VA 18 SB: 9 - 104
VA 18 NB: 2 - 106
VA 306: 14 - 120
VA 304 SB: 8 - 128
VA 304 NB: 1 - 129
US 15 SB, US 501 SB, VA 32 SB: 11 - 140
US 15 NB, VA 32 NB: 1 - 141
VA 318: 13 - 154
US 60 WB, VA 10 WB: 8 - 162
VA 44: 0.5 - 162.5
VA 10 EB: 0.5 - 163
VA 404: 4 - 167
VA 406 WB: 14 - 181
VA 406 EB: 1 - 182
VA 409: 15 - 197
VA 407: 16 - 213
US 1, US 60 EB, VA 31: 1 - 214

VA 20 #1: Began in January 1918 as an original state route defined by the general assembly:

Route 20: Richmond, Amelia, Burkeville, Blackstone, Kenbridge, Lunenburg, Charlotte CH, Brookneal

This is how VA 20 ran:
VA 20's eastern endpoint is a little uncertain but may have begun where US 360 and US 1-301 intersect. VA 20 headed west on current US 360 to Amelia County except: Lockhart Rd-Hicks Rd-Walmsley Blvd-Goode Bridge Rd; SR 690 Cosby Rd, which once crossed US 360 and connected to today's Ashbrook Pkwy, then N. Spring Run Rd north back to US 360
In Amelia County, VA 20 followed US 360 except: SR 698 Circle Dr and Mt. Olive Ln near SR 604. At Amelia CH, VA 20 initially used SR 630/629 north of the railroad, then crossed the RR south into Amelia using SR 605 Wayside Ave and US 360 Bus. It is not clear how VA 20 originally traversed Amelia CH, but it left town on today's VA 38 to SR 614 south to SR 624 Whitaker Rd west back to SR 656 Amelia Ave (somewhere around SR 721) then west back to US 360. VA 20 used SR 697 Maplewood Dr and SR 671 through Jetersville.
VA 20 followed US 360 to Burkeville, then bent back southeast using today's US 460 to Crewe (used SR 1006 CCC Rd). VA 20 likely used SR 625 E Courthouse Rd to about SR 645, then picked up Wrights Rd on the other side of the 460 freeway. VA 20 followed US 460 Business into Blackstone. VA 20 followed VA 40 west to Kenbridge except for SR 721 Country Club Rd and Moseley Ln.
VA 20 followed VA 40 towards Victoria except a little SR 736 at the RR crossing. It is unclear if VA 20 originally came into Victoria south of the railroad. The 1932 Lunenburg COunty map shows a couple possibilities other than VA 40 straight over - either SR 1009 Twin Cemetery Rd or SR 734 Mecklenburg Ave.
VA 20 continued to Lunenburg CH along VA 40-49 except for Old Court St and SR 775 Neblett Field Rd. VA 20 then followed VA 40 to Keysville except it may have used SR 680/681 loop near Crymes Store. VA 20 then continued along VA 40 to Brookneal except: Splitrail Ln; Eureka Church Ln; SR 709 Union Cemetery Rd over to VA 47 back to Charlotte CH; Womacks Loop; SR 668 Stockdale Rd to Phenix; may have used Tola/Bethel Rd out of Phenix; Aspen Rd/abandoned route/Jordans Gate School Rd/Midway Rd.
VA 20 ended at VA 18 (now Main St) Brookneal.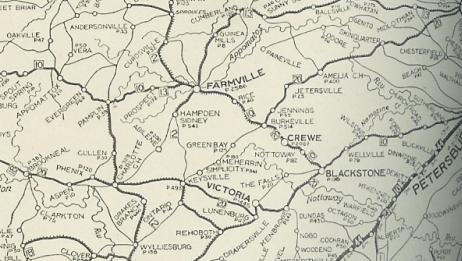 Original VA 20, Brookneal to Richmond
1922 Auto Trails


In Dec 1921 (CTB), VA 20 was rerouted at Burkeville to run directly to Keysville thusly: SR 621 Burke Tavern Rd; US 360 to Green Bay (may have used SR 694 and SR 696); abandoned routing due south of SR 696 to SR 630 to Meherrin; SR 728 Moore Ordinary Rd, then SR 701 Bruceville Rd; US 360; SR 654 Cabbage Patch Lane; Briery Rd/Country Club Rd; US 15 and US 15 Business to Keysville. The old zig-zag route became VA 20 SPUR and later the original VA 323.
In May 1926 (CTB), VA 20 was extended south across the Roanoke River with VA 18 Old Main St a couple miles, then extended west as new primary routing 5.1 miles towards Gretna.

VA 20 direct from Keysville to Burkeville
1924 Official


VA 20 extended towards Gretna
1926 Official

By 1926, VA 20 was placed on modern US 360 between Meherrin and Green Bay.
In March 1927 (CTB), VA 20 was extended west another 4 miles; also, a second piece of VA 20 was created running from VA 335 (now VA 122) near Rocky Mount east 16 miles.


VA 20 expanded west to Rocky Mount
1928 Official


In late 1926, US 501 was assigned to VA 20 from Keysville to Burkeville and US 60 from Keysville to Richmond.
By 1927, VA 20 was placed on US 360 Bus east of Amelia CH and SR 656 Amelia Rd west of Amelia CH.
In Aug 1928 (CTB), the western piece of VA 20 replaced VA 335 into Rocky Mount, then was extended as new primary routing 26 miles via Ferrum and Endicott. The western piece was also extended east 27 miles through Gretna towards Renan.


VA 20 expanded west to Patrick County line and also through Pittsylvania County heading east
1929 Official


In Dec 1930 (CTB), the western segment of VA 20 was extended west 7 more miles. Also, the 9 mile gap in eastern Pittsylvania County to the Halifax Line was put into the primary system.
About 1931, VA 20 was rerouted to use today's US 360 directly northeast of Keysville to Simplicity instead of US 15/SR 654.

VA 20 using US 15/SR 654
1930 Official


VA 20 on modern US 360's alignment
1931 Official

In July 1932 (CTB), VA 20 was extended to VA 23 (now VA 8) Woolwine.
In 1932, VA 20 was placed on current VA 40 from Penhook through Gretna to Mt. Airy. The original route used SR 779 Liberty Rd; SR 626 Smith Mtn Rd; VA 40 to Sandy Level; abandoned routing to cross the Pigg River to Oxford Rd; Oxford Rd and Lark Rd to Pullens; SR 605 Toshes Rd; SR 748 Milam Rd to Pittsville; SR 672 Pittsville Rd; abandoned routing; SR 835 Farmers Mtn Rd; Gate Rd; Leftwich St into Gretna; US 29 Business north; SR 634 Blue Ridge Dr; SR 670 Deer View Dr to Renan; SR 640 Renan Rd back to current VA 40. The old route described above became CR 1 and CR 11.


VA 20 modernized through Pittsylvania County
1932 Official


Also about 1932, VA 20 was placed on modern US 360 throughout Chesterfield County.
In 1933, VA 20 was removed from SR 946 Novelty Rd in eastern Franklin County; SR 945/660 Penhook and placed on modern VA 40.
The draft 1933 route log had VA 20 from Keysville west past Ferrum as VA 10 and the rest to Woolwine as VA 109.
In July 1933, VA 20 was renumbered as VA 40 from Woolwine to Keysville. West of Brookneal this is still VA 40 except: SR 805 Nolens Hill Rd in Ferrum, a bit of SR 623, and SR 805 Fieldcrest Rd; Hatcher St/Dent St/College St/Franklin St/High St in Rocky Mount; SR 792 near Union Hall; SR 668 and abandoned routing in the Cody area. East of Brookneal is described in the original description of VA 20 above.
VA 20 was renumbered as US 360 from Keysville to Richmond. VDOH had requested this be US 33.

VA 20 SPUR: Appeared Dec 1921 (CTB) when VA 20 was given a direct path from Keysville to Burkeville. VA 20 SPUR was assigned to the original path of VA 20: Keysville-Lunenburg CH-Victoria-Kenbridge-Blackstone-Burkeville. Detailed description in the original VA 20 entry above.
In 1923, VA 20 SPUR was renumbered as VA 323 from Keysville to Blackstone and VA 10 from Blackstone to Burkeville.

VA 20 ALT: Appeared March 1956 (CTB) as a renumbering of mainline VA 20 through Orange.
VA 20 ALT was renumbered as VA 20 Business between 1970-75.

VA 20 original route Orange CH
1936 Orange County


VA 20 ALT through Orange CH
1969 Orange County


VA 20 Business through Orange CH
1975 Orange County