From: Rocky Gap (Bland County)
To: WV line at Bluefield, Bland County (continues as WV 598 into Bluefield WV)
Total Length: 4.16 miles The route continues as WV 598 to US 52 in Bluefield, WV.
ROUTE LOG
I-77 (exit 66), US 52: 0 - 0
WV STATE LINE: 4.16 - 4.16

Creation: Appeared in 1980 as a renumbering of US 21-52. This has been the only VA 598.
Adjustments: None
Improvements: Fully paved upon designation; no multilane segments.
Posting: Fully posted. However, VA 598 is not mentioned on the SB I-77 BGS at this exit (only mentions US 52)
Multiplexes: None
Legislative names: None
Other Names: None
Scenic Byway: None
Comment: Yes Virginia, there is a VA 598. This is very nearly the highest theoretical primary state highway number which can be used until the secondary numbers take over at 600. Why 598 was chosen, I have no idea. It would have made more sense to put US 52 on I-77 starting in Band and let old 52 to West Virginia be VA 98.
There is a scenic overlook and old rest area at the state lione crossing on top of East River Mountain.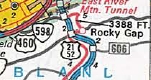 VA 599 not currently assigned
Previous VA 599's:



Apparently, projects whose routes had not been established were given a Route 599 designation. It is unlikely these were ever posted as such.
VA 599 #1: Appears in April and October 1961 CTB Minutes, referring to the bridge over Smith Creek in the City of Norfolk. There is only 1 bridge over that small waterway, which is Brambleton Ave. VA 150 was assigned to this route in 1962. Today it is US 58/VA 337.
VA 599 #2: Appears in the April 1960, April 1961, and October 1962 CTB Minutes, describing a project between State St. and Commonwealth Ave. I believe this refers to the Euclid Ave construction, which when finished became US 11W and US 421. The 1960 and 1961 entries in the CTB minutes erroneously call this VA 597 (project numbers are all labeled 599 however)
VA 599 #3: Appears in the March 1963 CTB Minutes as the project between VA 134A (Magruder Blvd) and the NASA entrance. This opened as the southernmost part of VA 172.
VA 599 #4: Appears in the April 1963 CTB Minutes as a project between Water St. and Brambleton Ave in Norfolk. I think this refers to Tidewater Drive here, which became VA 337 in 1963 or 1964.
VA 599 #5: Appears in May '63, June '64, and September '65 CTB minutes referring to the project between US 258 and Langley AFB at Tide Mill Creek. This opened as part of VA 167 (now just La Salle Ave).
VA 599 #6: Appears in September and October 1964 CTB minutes as the Leesburg Bypass project, which was partially done in the late 60's from VA 7 northward (posted as what I don't know). Eventually it became US 15.
VA 599 #7: Appears in October '65, July '66, and October '66 CTB minutes as the project on Pacific Ave below 5th St. in the City of Virginia Beach. This would be the Rudee Inlet Bridge, which is implied on maps as being US 60 at the time, but US 60 officially still uses Atlantic Ave to the last.
VA 599 #8: Appears in the April 1966 CTB referring to a project that extended VA 419 north from US 460 to I-81.
VA 599 #9: Appears in December 1966 CTB minutes referring to a project in King Georges County between SR 624 and SR 618. This later opened as an extension of VA 218.
VA 599 #10: Appeared in February, July, and August 1967 CTB Minutes as a project in Augusta County between US 11 and I-81. This later opened as VA 275. Now it is part of VA 262.