I-595: Per Scott Kozel's website, I-595 was approved in 1968 to run from I-95 (now I-395) south with US 1 to VA 233. The first explicit reference to I-595 in the CTB was in December 1971.
Per Kozel, the northern half of this was actually built as part of the Shirley Highway overhaul, completed in this area in 1975. It was not signed. After this the 595 project ran into a lot of opposition in a rapidly expanding Crystal City.
In April 1982 (CTB), I-595 was effectively cancelled when the CTB elected to not conduct additional environmental assessments and public hearings as required by a Nov 1976 court order. The CTB elected to do US 1 improvements but not to interstate standards. Today US 1 through here is limited access but not fully controlled access.
I-595 appears on the 1972-76 Officials, with it being erroneously shown on the 1972 and 1973 issues on the George Washington Pkwy. I-595 also appears on Fairfax County maps as late as 1979 and is listed in the 1979 VDOT Route Log.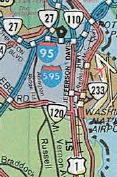 I-595 in Crystal City
1975 Official