From: City of Bristol
To: Tennessee State Line, City of Bristol
Total Length: 2.84 miles
ROUTE LOG
I-381: 0 - 0
US 11, US 11E BEGIN, US 11W, US 19 NB, US 421 NB: 0.63 - 0.63
VA 113: 0.35 - 0.98
US 421 SB: 0.13 - 1.11
TN STATE LINE: 0.10 - 1.21

Creation: Appeared in Oct 1960 (CTB) as new primary routing. Ran as it does today, only with no other routes duplexing with it. This is the only VA 381.
Adjustments: None
Improvements: Paved and multilaned upon inception
Posted: At last report, not posted anywhere
VA 381 was posted in cutouts until about 2003, then replaced with shields. However, shortly afterwards, all 381 shields were removed for some reason.
Multiplexes: US 11E, US 19 (0.10 mi)
US 11E, US 19, US 421 (0.48 mi)
Legislative names: None
Other names: Commonwealth Ave
Scenic Byway: None
Comment: VA 381 provides a connection to I-381 and out to I-81 from central Bristol.
VA 381 should be Green I-381 Spur and in my opinion US 19 should use it up to I-81.
VA 381 did not appear on State Officials until 1988 when Bristol insets began appearing again.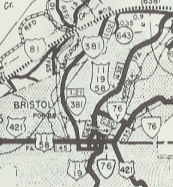 VA 381 appears
1961 Washington County
From: Wise (Wise County)
To: university of Virginia at Wise (Wise County)
Total Length: 1.24 miles

ROUTE LOG

Creation: Appeared in July 1964 (CTB) as new primary routing. This is the only VA 382.
Adjustments: In March 1966 (CTB), 0.5 miles of road were added as VA 382.
Improvements: Paved upon inception; no true multilane segments
Posted: Was not posted in summer 2009 when I field visited.
Multiplexes: None
Legislative names: None
Other names: Too many to list
Scenic Byway: None
Comment: VA 382 has two access points off SR 646.
UVa at Wise was known as Clinch Valley College from 1954-1999.
VA 382 does not appear on official maps.

VA 382
1995 Wise County

From: SR 6871, 0.5 miles west of near Fairfax (Fairfax County)
To: George Mason University (Fairfax County)
Total Length: 0.81 miles

ROUTE LOG
SR 6871: 0 - 0
VA 123: 0.50 - 0.50
END VA 383: 0.31 - 0.81

Creation: Appeared in Nov 1964 (CTB), running as it does today. This is the only VA 383.
Adjustments: Between 1980-87, VA 383 was extended west across VA 123 to end just past Rapidan River Rd where University Drive becomes residential. Official maps do not show this but the county maps do.


VA 383 original route
1979 Fairfax County


VA 383 extended west
1987 Fairfax County


Improvements: Paved upon inception; it is multilaned now but it is uncertain if that has always been the case.
Posted: Fully posted from VA 123 NB in shields, but not posted anywhere else back to at least 1995.
Multiplexes: None
Legislative names: None
Other names: University Dr
Scenic Byway: No segments
Comment: VA 383 started showing up on state officials in 1978 but was erroneously shown as VA 303 from 1978-93.


VA 383 spelled incorrectly
1978 Official


VA 383 finally right
1994 Official

From: Selma (Alleghany County)
To: Dabney S. Lancaster Community College (Alleghany County)
Total Length: 0.56 miles

ROUTE LOG
I-64 (exit 24), US 60, US 60 Bus, US 220, US 220 Bus: 0 - 0
END VA 384: 0.56 - 0.56

Creation: Appeared in Feb 1965 (CTB) as new primary routing, running as it does now. This is the only VA 384.
Adjustments: None
Improvements: Paved upon designation; no multilane segments
Posting: A solitary shield leaving I-64, which was still a cutout as late as 1993. Not mentioned at all from I-64.
Multiplexes: None
Legislative names: None
Other names: Dabney Dr.
Scenic Byway: None
Comment: This is the only college series route that has a direct interchange with an interstate.
VA 384 is not shown on Virginia Official maps.

VA 384 appears
1975 Alleghany County

From: near Keysville (Charlotte County)
To: Southside Virginia Community College, Daniel Campus (Charlotte County)
Total Length: 0.34 miles

ROUTE LOG
VA 40: 0 - 0
END VA 385: 0.34 - 0.34

Creation: Appeared around 1970 (Campus opened) as new primary routing, running as it does today. This is the only VA 385.
Adjustments: None
Improvements: Fully paved upon inception; no multilane segments
Posted: Fully posted with shields at VA 40
Multiplexes: None
Legislative names: None
Other names: Tech Ln
Scenic Byway: None
Comment: VA 385 is just east of the US 15-360 bypass of Keysville.
VA 385 does not appear on Official maps or on the 1990s VDOT County Atlas.

VA 385 from VA 40 WB
Mapmikey, Jan 2006

From: east of Boydton (Mecklenburg County)
To: Mecklenburg Correctional Facility (Mecklenburg County)
Total Length: 0.99 miles

ROUTE LOG
US 58: 0 - 0
END VA 386: 0.99 - 0.99

Creation: The Mecklenburg Correctional Center opened in 1976 and the two bridges are dated 1978. This is the only VA 386.
Adjustments: None
Improvements: Paved upon inception; no multilane segments
Posted: Fully posted from US 58 with shields.
Multiplexes: None
Legislative names: None
Other names: Prison Rd
Scenic Byway: No segments
Comment: VA 386 is a rare example of a 3xx series route with a 55 mph speed limit.
Appears on state official maps since 1988.

VA 386 near Boydton
1990 official


VA 386 detail
1995 Mecklenburg County

From: near Big Stone Gap (Wise County)
To: Mountain Empire Community College (Wise County)
Total Length: 0.82 miles

ROUTE LOG

Creation: VA 387 was created in Jan 1974 (CTB) as new primary routing, running as it does today. This is the only VA 387.
Adjustments: None
Improvements: paved upon inception; no multilane segments
Posted: Fully posted with shields at US 23.
Multiplexes: None
Legislative names: None
Other names: Mountain Empire Rd
Scenic Byway: No segments
Comment: VA 387 is a half loop around campus, with a connector to US 23.
VA 387 does not appear on officials.

VA 387
1995 Wise County

From: near Charlottesville (Albemarle County)
To: Piedmont Virginia Community College (Albemarle County)
Total Length: 0.64 miles

ROUTE LOG
VA 20: 0 - 0
END VA 388: 0.64 - 0.64

Creation: VA 388 was created in Jan 1974 (CTB) as new primary routing, running as it does today. This is the only VA 388.
Adjustments: None
Improvements: paved upon inception; no multilane segments
Posted: posted with white rectangles at VA 20.
Multiplexes: None
Legislative names: None
Other names: College Dr
Scenic Byway: No segments
Comment: VA 388 is located across VA 20 from old VA 317.
VA 388 does not appear on officials, although there is plenty of room in the charlottesville inset to label it.

VA 388 on a map
1981 Albemarle County

From: near Melfa (Accomac County)
To: Eastern Shore Community College (Accomac County)
Total Length: 0.18 miles

ROUTE LOG
US 13: 0 - 0
END VA 389: 0.18 - 0.18

Creation: VA 389 was created about 1975 as new primary routing, running as it does today. This is the only VA 389.
Adjustments: None
Improvements: paved upon inception; no multilane segments
Posted: posted with white rectangles at US 13.
Multiplexes: None
Legislative names: None
Other names: College Dr
Scenic Byway: No segments
Comment: This is next door to the Accomac County airport

VA 389
1995 Accomac County

From: near Holland (City of Suffolk)
To: Tidewater Agricultural Research and Extension Center (City of Suffolk)
Total Length: 0.13 miles

ROUTE LOG
US 58: 0 - 0
END VA 390: 0.13 - 0.13

Creation: VA 390 was created about 1978 as new primary routing, running as it does today. This is the only VA 390.
Adjustments: None
Improvements: paved upon inception; no multilane segments
Posted: Was posted with white rectangles at US 58 until Suffolk removed all their SR rectangle postings around 2008 or so. In their zeal they grabbed the 390 rectangle, too.
Multiplexes: None
Legislative names: None
Other names: College Dr
Scenic Byway: No segments
Comment: Supposedly the fill dirt for the Holland Bypass came from the Extension property.
The Extension (a part of Va. Tech) dates back to 1914 in one form or another.

VA 390
1995 City of Suffolk

From: Sterling (Loudoun County)
To: Northern Virginia Community College, Loudoun Campus (Loudoun County)
Total Length: 0.17 miles

ROUTE LOG
VA 7: 0 - 0
END VA 391: 0.17 - 0.17


Creation: VA 391 was created about 1978 as new primary routing, running as it does today. This is the 2nd VA 391.
Adjustments: None
Improvements: paved upon inception; no multilane segments
Posted: Was posted with shields on VA 7.
Multiplexes: None
Legislative names: None
Other names: Campus Dr
Scenic Byway: No segments
Comment: Appears on officials back to 1978.


VA 391 appears
1978 Official

Previous VA 391's:

1928 ROUTE LOG
US 17 SB, US 60, VA 39: 0 - 0
VA 397: 1 - 1
US 17 NB, VA 29: 6 - 7
END VA 391: 20 - 27

VA 391 #1: Appeared in 1923 as a renumbering of VA 9 SPUR, running from Williamsburg to Yorktown via SR 641, SR 640 and Old Williamsburg Rd through the Yorktown Naval Station. VA 391 then used Wolf Rd and VA 238 to SR 1020 into Yorktown, where the route ended at the ferry across the York River (VA 29 met from the other direction).
In March 1924 (CTB), VA 391 was rerouted to follow VA 238 west through Lebanon Church and headed to Lee Hall. The old path towards Williamsburg became secondary forevermore.
Also in March 1924 (CTB), VA 391 was extended southeast 6.25 miles from Yorktown to roughly Grafton as an upgrade to CR 4.
In Jan 1925 (CTB), VA 391 was extended southeast 5.5 more miles to west of Poquoson.
In May 1926 (CTB), VA 391 was extended southeast 3.6 miles to south of Poquoson.
In late 1926, US 17 was assigned to VA 391 from Lee Hall to Yorktown.
In March 1927 (CTB), VA 391 was extended 4.7 more miles.
In August 1928, VA 391 was renumbered as VA 514. Today it is VA 238, SR 1020, SR 634 Old Yorktown-Hampton Hwy, US 17, SR 621 through Grafton; US 17; SR 706 Yorktown Rd, VA 171, Yorktown Rd into Poquoson Rd, VA 172, and Armistead Av. VA 391 ended approximately 2.4 miles north of Queen St. which would be on Armistead just north of Mercury Blvd.
The 1927 and 1928 Official maps erroneous show VA 391 connecting back to US 60/VA 39 in Hampton.


Both VA 391 alignments are shown
1923 Official


VA 391 extended towards Hampton
1926 Official

From: Woodlawn (Carroll County)
To: Southwestern Virginia Training Center (Carroll County)
Total Length: 1.05 miles

ROUTE LOG
SR 707: 0 - 0
VA 392: 0.10 - 0.10
VA 392: 0.95 - 1.05


Creation: Unsure (website had no history). By its number it probably got started around 1976 and is the 2nd VA 392.
Adjustments: None
Improvements: Paved since inception; no multilane segments
Posted: VA 392 was fully posted in both directions on SR 707 until 2007. It is now only posted on SR 707 NB
There have been TO VA 392 shields in both directions on nearby US 58-221 since at least 1993.
Multiplexes: None
Legislative names: None
Other names: Harrison Circle
Scenic Byway: No segments
Comment: The road is a loop around the facility that ends at itself just east of SR 707.
This facility (and presumably VA 392) is scheduled to close between 2014 and 2020.


VA 392
1995 Carroll County

Previous VA 392's:

1928 ROUTE LOG
SCL Wakefield: 0 - 0
VA 10: 15 - 15
GAP IN ROUTE
Jamestown Ferry: 0 - 15
US 60, VA 39: 5 - 20

VA 392 #1: Appeared in Oct 1923 (CTB) as a renumbering of VA 9 SPUR running from VA 39 (now just Richmond Rd) Williamsburg south via today's Jamestown Rd, Mill Neck Rd (no longer connects to), SR 617, SR 618, SR 682, west along today's Colonial Pkwy, then cut south at the parking area to a causeway (still visible on Google Earth) and crossed Thoroughfare Creek onto Jamestown Island to meet the ferry in the area of the historic settlement.
In mid-1926, a separate piece of VA 392 was assigned to what had been put into the system as VA 351 from Dendron through Wakefield to its SCL (current SR 628-620 jct). This piece was not connected to any other part of the highway system.
In 1925 (per Wikipedia), the ferry from Jamestown to Scotland was established as a private enterprise. The Jamestown wharf was on Jamestown Island at that time.
About 1927, VA 392 was rerouted to use today's VA 5 and 31 directly to SR 682.
In March 1927 (CTB), VA 392 was extended from Dendron to VA 10 Surry C.H.
In March 1928 (CTB), a permit was granted to Eastern Virginia Bridge Company to build a toll bridge between Scotland Wharf and Jamestown Island.
In Aug 1928, both pieces of VA 392 were renumbered as VA 510. Today the southern piece is VA 31 and a liitle SR 628.


VA 392 from Jamestown to Williamsburg
1929 Official


VA 392 alone in Sussex County
1926 Official


VA 392 connected to VA 10
Also note the distance from Jamestown to Williamsburg dropped
1927 Official

From: near Manassas (Prince William County)
To: Northern Virginia Community College, Manassas Campus (Prince William County)
Total Length: 0.63 miles

ROUTE LOG
VA 234: 0 - 0
END VA 393: 0.63 - 0.63

Creation: The campus opened in 1972. This is the 2nd VA 393.
Adjustments: It is unclear if VA 393 originally ended at the circle or if it has always continued around to the backside of campus as it does now.
Improvements: Paved upon inception; no multilane segments
Posting: A white rectangle used to up at VA 234 but was removed in the late 90s.
Multiplexes: None
Legislative names: None
Other names: None
Scenic Byway: No segments
Comments: The segment between VA 234 and the traffic circle is one-way eastbound (into campus) since the late 90s.
VA 393 does not appear on official maps although there is room in the inset for it.
Previous VA 393's:

1925 ROUTE LOG
US 60, VA 39: 0 - 0
END VA 393: 23 - 23
GAP IN ROUTE
Pamunkey River: 0 - 23
VA 30: 0.5 - 23.5

VA 393 #1: Appeared March 1923 (CTB) running from VA 39 (now US 60) Bottoms Bridge east to New Kent C.H. It is unclear if this was a renumbering of part of VA 9 SPUR #2.
In July 1924 (CTB), VA 393 was assigned to a separate piece running along 14th St from VA 30 in West Point to the Pamunkey River. This is confirmed in the 1926 Route log.
In May 1926 (CTB), VA 393 was extended from New Kent C.H. east 2 miles.
In March 1927 (CTB), VA 393 was extended east 4 more miles towards West Point, ending a little east of the VA 30-33-249 jct.
In Aug 1928, VA 393 was renumbered as VA 415.
Today, VA 393 is abnadoned alignment from US 60 at the Henrico County Line; then VA 249 except: SR 611 Quaker Rd and (no longer connects to) Holly Hill Rd in Quinton; SR 627 Stage Rd/abandoned SR 678 east of New Kent CH; SR 626 Paige Rd Slaterville; SR 623 Pamunkey Church Rd


VA 393 to New Kent CH
1924 Official


VA 393 extended east
1932 Official

From: Dale City (Prince William County)
To: Dale City (Prince William County) City of Hampton
Total Length: 0.36 miles

ROUTE LOG
SR 638: 0 - 0
SR 638: 0.36 - 0.36

Creation: The Northern Virginia Community College (Woodbridge Campus) opened in 1972. This is the 2nd VA 394.
Adjustments: None
Improvements: Paved upon inception; no multilane segments
Posting: Not currently posted; there was a white rectangle at its northern SR 638 access which was removed (per Dan F) in 2005 when the intersection was expanded for an adjacent high school.
Multiplexes: None
Legislative names: None
Other names: College Dr
Scenic Byway: None
Comment: VA 394 does not appear on maps

VA 394
1995 Prince William County
Previous VA 394's:

1928 ROUTE LOG
US 60, VA 39: 0 - 0
END VA 394: 1.6 - 1.6

VA 394 #1: Appeared in May 1923 (CTB) as new primary routing, running from VA 39 (now VA 143) Phoebus east to the Buckroe Beach waterfront.
In Aug 1928, VA 394 was renumbered as VA 512. Today it is VA 169 except right in Buckroe it used Point Comfrot Dr to the waterfront at Chesapeake Ave.

1924 Official

VA 395 not currently assigned
Previous VA 395's:

1928 ROUTE LOG
CR 2: 0 - 0
VA 39 WB: 13 - 13
VA 39 EB: 10 - 27
WV STATE LINE: 4 - 38

VA 395: Appeared around 1924 as new primary routing, running from VA 39 (US 220-250 jct) Monterey north 2 miles.
In Jan 1925 (CTB), VA 395 was extended north 5 miles.
In Apr 1926 (CTB), VA 395 was extended north to the West Virginia line.
In March 1927, VA 395 was extended south with VA 39 to Vanderpool, then as new primary routing 3 miles.
In Jan 1928 (CTB), VA 395 was extended south 0.5 miles, ending in the Mustoe area.
In Aug 1928, VA 395 was renumbered as VA 800. Today it is US 220 except it used: abandoned alignment just south of VA 84; a bit of VA 84; SR 636; SR 632


VA 395 north of Monterey
1924 Official


VA 395 extended both directions
1927 Official

From: Goochland C.H. (Goochland County)
To: Goochland C.H. (Goochland County)
Total Length: 0.85 miles

ROUTE LOG
US 522, VA 6: 0 - 0
SR 632: 0.85 - 0.85

Creation: J. Seargent Reynolds (Western Campus) opened in 1978. This is the 2nd VA 396.
Adjustments: None
Improvements: Paved upon inception; no multilane segments
Posting: Fully posted with shields at US 522/VA 6; white rectangles at SR 632.
Multiplexes: None
Legislative names: None
Other names: Dickenson Rd
Scenic Byway: None
Comment: Does not appear on official maps; located just south of the US 522/VA 6 northern split.

VA 396
1995 Goochland County
Previous VA 396's:



VA 396 #1: Appears in the October 1926 VDOT Route Log with the entry "see 251". VA 39 would have crossed VA 251 in Waynesboro. Thus, VA 396 was a briefly existing renumbering of VA 334 from 1 mile west of Waynesboro through Stuarts Draft to VA 33 (now US 11) near Greenville. It is less clear if VA 396 also replaced the piece of VA 334 west of US 11 along today's SR 701, as 334 was also in the same route log as "see 251" which strongly implies 334 was still around (other routes decommissioned prior to this time were not listed in the log pointing you to their replacements).
So in Oct 1926 VA 396 became VA 251. Today, it is essentially US 340. I have seen no map showing 396. Only 334 or 251.

From: near Jarratt (Sussex County)
To: Greensville-Sussex Line, Greensville Correctional Center
Total Length: 0.38 miles

ROUTE LOG
US 301: 0 - 0
Greensville-Sussex Line: 0.38 - 0.38

Creation: Appeared in June 1990 (CTB), running as it does now. This is the 2nd VA 397.
Adjustments: None
Improvements: Paved upon inception; no multilane segments
Posting: Fully posted; An error US 397 shield existed for a number of years at its western end but has been corrected.
Multiplexes: None
Legislative names: None
Other names: Ridge Rd
Scenic Byway: None
Comment: Appears on state officials since 1990.
The 2003 route log references the Greensville County road to the prison as proposed VA 397, but this never occurred.

1990 Official
Previous VA 397's:

1928 ROUTE LOG
US 60, VA 39: 0 - 0
US 17, VA 391: 0.9 - 0.9

VA 397 #1: Appeared in June 1926 (CTB) as new primary routing, running as a cutoff from US 60/VA 39 north of Lee Hall to US 17/VA 391 (now VA 238) Lebanon Church.
In Aug 1928, VA 397 was renumbered as VA 519. Today only a sliver of this is public road, right at VA 238. Over to VA 143 is now part of the Yorktown Naval Station Annex. Between VA 143 and US 60 is physically destroyed as a result of building I-64.

1926 official

From: Kemper Rd (City of Danville)
To: College Park Dr (City of Danville)
Total Length: 0.40 miles

ROUTE LOG
Kemper Dr: 0 - 0
College Park Dr: 0.40 - 0.40

Creation: Danville Community College opened in 1967 and was a textile school back to 1936 before that. Based on the route number VA 398 appeared around 1990 or so. This is the only VA 398.
Adjustments: None
Improvements: Paved upon inception; no multilane segments
Posting: Full shields at Kemper Dr; not posted anywhere else
Multiplexes: None
Legislative names: None
Other names: Neathery Ln
Scenic Byway: None
Comment: VA 398 does not appear on maps.
VA 398 rus essentially one block west of VA 86. In fact, College Park Dr is an old alignment of VA 86.

VA 398
1995 Pittsylvania County

From: City of Richmond
To: City of Richmond
Total Length: 0.11 miles

ROUTE LOG
US 33, US 250: 0 - 0
US 33, US 250: 0.11 - 0.11

Creation: The Science Museum of Richmond opened in 1977. This is the only VA 399.
Adjustments: None
Improvements: Paved upon inception; no multilane segments
Posting: Not posted
Multiplexes: None
Legislative names: None
Other names: None
Scenic Byway: None
Comment: Does not appear on maps
VA 399 is one way westbound. I believe this is the only primary route that is 100% one-way.
The museum was the Richmond train station from 1917-75.

VA 399
1995 Henrico County

From: George Washington Memmorial Parkway at hunting Towers, just south of , SCL City of Alexandria
To: George Washington Memorial Parkway (at 1st St), City of Alexandria
Total Length: 1.79 miles

ROUTE LOG
GW PKWY, Alexandria-Fairfax Line: 0 - 0
VA 236: 0.91 - 0.91
GW PKWY: 0.88 - 1.79

Creation: Appeared as a newly numbered route in Nov 1980 (CTB), although some of this had been US 1 ALT in the 60's. This is the 2nd VA 400.
Adjustments: None
Improvements: Paved and multilaned upon inception
Posting: Fully posted; A couple white border shields from 1980 remain. VA 400 is not mentioned from the Beltway although there is a ramp from the Inner Loop to Washington St.
Multiplexes: None
Legislative names: None
Other names: Washington St
Scenic Byway: None
Comment: It is unclear if VA 400 connects to the rest of the State Highway System. Maps say no. The VDOT route log in 2003 and traffic logs in 2008 suggest VA 7 and VA 236 end at VA 400.

1982-83 Official
Previous VA 400's:

1932 ROUTE LOG
US 15, US 58 WB, VA 32, VA 44: 0 - 0
US 58 EB, VA 12: 11 - 11

VA 400 #1: Appeared in Aug 1928 as a renumbering of part of VA 201, running from US 15/VA 32/VA 44 near Clarksville east to VA 12 (now VA 92) Boydton. US 401 was also assigned to the entirety of VA 400. Thus, it was a secret route.
In 1932, US 401 was renumbered to US 58.
In July 1933, VA 400 was dropped from the route for just US 58. Today, it is still US 58 except it used SR 783 through Finchley; SR 756 into Boydton; one block of SR 707
VA 400 did not appear on officials but is on the 1932 Mecklenburg County Map. At least one commercial map showed it...

1929 Auto Trails

---

Previous: VA 361 - 380 | Next: VA 401 - 420
Top | Virginia Hwy Index Home

Page last modified 1 March 2015