Previous VA 52's:

1934 ROUTE LOG
US 58, US 460: 0 - 0
VA 53: 4 - 4
NC STATE LINE: 18 - 22

VA 52: Appeared in Aug 1928 (CTB) as new primary routing running from VA 10 Suffolk northwest via Windsor, Wakefield, and Waverly and ending 7.45 miles into Prince George County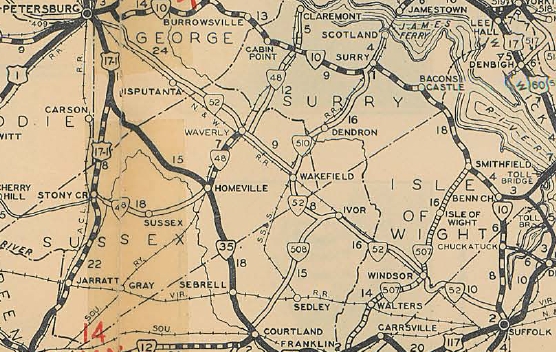 VA 52 #1 appears
1929 Official


In Aug 1929 (CTB), VA 52 was extended west 3.5 miles to New Bohemia. Also, VA 52 was rerouted between Wakefield to Zuni to use current US 460. The original route used SRs 628, 600, and 616 to below Ivor, then SRs 622 and 614 to Zuni. The SR 616 piece became an extended VA 508. A small bit of the SR 628 piece became/remained VA 510.
Also in this timeframe, VA 52 was given US 460's routing east of Windsor instead of today's SR 636.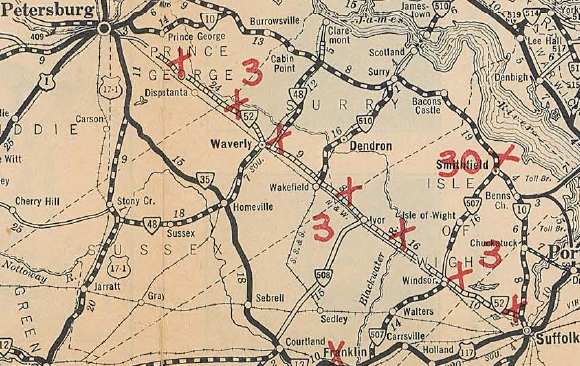 VA 52 straightened out Wakefield to Zuni
1930 Official


In Dec 1930 (CTB), VA 52 was extended 4.47 miles northwest of New Bohemia
In July 1932 (CTB), VA 52 was extended to VA 10 (now just Bank St) in Petersburg
The 1933 draft route log had VA 52 extended south replacing VA 505 to the North Carolina line.


VA 52 from Petersburg to NC
1933 draft route log


In July 1933 (CTB), VA 52 was renumbered as US 460 (after VDOH requested US 86 first) from Petersburg to Suffolk and only the piece below Suffolk remained VA 52.
In September 1934, VA 52 was renumbered as an extended VA 10. Today it is VA 32 except it used Saratoga Street in central Suffolk.
It is surprising such a direct route from Petersburg to Suffolk was not in the original highway system, even though the railroad was already established and the towns existed. Current VA 35 and VA 10 were instead established as the corridors from the Tidewater area to Petersburg and ultimately Richmond.

VA 505 south of Suffolk
1929 Official


VA 52 replaces VA 505
1933 Official


VA 10 replaces VA 52
1936 Official