US 511
---
<US 501 | Home | US 522 >

US 11 | US 211 | US 311 | US 411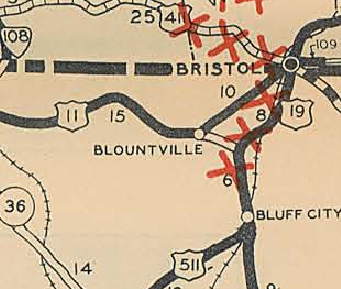 ---
Mapscan:
US 511's fleeting existence (1929 Official)
US 511 not currently assigned




US 511: Appeared in late 1926 as an original US Highway. US 511 only had a small part in Virginia. Shown on the main official maps 1927-29 but not Bristol insets. It reached Bristol via Pennsylvania Ave into Bristol, TN, then used State St west to Front St where it met US 11. Westbound State St is in Virginia.
By late 1927, Tennessee maps were already showing this as US 11E.
In late 1929, AASHO noticed these maps and approved US 511 becoming US 11E.
Tennessee hadn't posted any US routes as of 1929, so US 511 was not posted there. It seems unlikely that Virginia had a US 511 shield either.
---
Previous: US 501 | Next: US 522
US 11 | US 211 | US 311 | US 411 |
Top | Virginia Hwy Index Home
Page last modified 18 March 2022