ROUTE LOG
BEGIN WV 251: 0 - 0
US 40: 0.3 - 0.3


Creation: WV 251 was designated by 1980, running the way it does now. This is the only WV 251.
Adjustments: None
Improvements: Upon designation, WV 251 was fully paved; no multilane segments.
Comment: WV 251 is assigned to the Wheeling Suspension Bridge which opened in 1849. This bridge carried US 40-250 until about 1957.
Official maps back to at least 1973 show this as a route but unlabeled.
WV 251 is limited to 2 tons for a vehicle and wehicles must maintain a separation. This is because the bridge was designed for the horse and buggy days.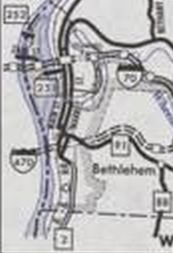 WV 251 shown explicitly
1980 Official