From: City of Richmond
To: City of Fredericksburg
Current Length: 54.14 miles
ROUTE LOG
US 1, US 301 SB: 0 - 0
Henrico-Richmond Line: 0.04 - 0.04
I-95 (exit 82): 0.20 - 1.62
Hanover-Henrico Line: 2.64 - 4.26
I-295 (exit 41): 0.40 - 4.66
VA 54Y: 10.24 - 14.90
VA 54: 0.04 - 14.94
Caroline-Hanover Line: 1.35 - 16.29
VA 30: 3.16 - 19.45
US 301 NB, US 301 Bus Begin, VA 207, VA 207 Bus Begin: 14.40 - 33.85
US 301 Bus NB, VA 207 Bus: 1.07 - 34.92
Spotsylvania-Caroline Line: 11.83 - 46.75
US 17, US 17 Bus Begin: 1.36 - 48.11
Fredericksburg-Spotsylvania Line: 4.53 - 52.64
VA 3: 0.55 - 53.19
US 1 Bus SB: 0.58 - 53.77
US 1 Bus NB, US 17 Bus NB, VA 3 Bus: 0.37 - 54.14

Creation: Appeared in July 1933 as a renumbering of VA 421 from US 1 Richmond to Hanover, then replaced VA 50 from Hanover to end at US 1-VA 3 Fredericksburg.
This is the 2nd VA 2.
Adjustments: Around Aug 1933 (CTB item extending VA 30), VA 2 was placed on its modern routing between Hanover and today's SR 721, leaving behind SR 651, a bit of extended VA 30, more SR 651, and an extended VA 14. Today this is SR 651 to north of Dawn; SR 602 to Covingston Corner; SR 682; 3.5 miles of abandoned road; SR 601 Campbells Corner north to SR 654 east; SR 623; SR 627; SR 721.
In Dec 1934 (CTB), VA 2 was removed from SR 698 and the abandoned Ruffins Pond bridges north of New Post.
Between 1933-35, VA 2 was removed from the SR 631 on the west side of VA 2 in Farmers.
In Dec 1947 (CTB), VA 2 was removed from SR 695 south of Bowling Green.
At some point after 1958, VA 2 was operationally placed on one-way splits in Downtown Fredericksburg with NB using Caroline St and SB using Princess Anne St. Note that traffic logs show VA 2 only assigned to Princess Anne St with no corresponding VA 2-P on Caroline St.
It appears that in the 1960s VA 2 was extended north out to the Fredericksburg bypass (then US 1 ALT) at the Falmouth Bridge, making it a possibility that the erroneous BGS posting described below might have been fully correct when erected.
In the early 2000s, VA 2 may have been moved with US 17 Business (which was moved) off Princess Anne/Caroline Sts south of US 1 Bus and instead is using Charles St to US 1 Bus. The problem is that all VA 2 signs went away 10 years ago so it is impossible to know if this actually happened or not.
Improvements: Paved upon inception
In 1960 or 1961, VA 2 was multilaned from its south end north to the nearby I-95 interchange.
In 1963, VA 2 was widened from I-95 north to its current point several miles north.
VA 2 is also multilaned within the City of Fredericksburg but it is unclear when that occurred, I believe it was a long time ago.
Posted: Fully posted; VA 2 is erroneously posted as VA 2 Business back to at least the early 2000s at the US 301 Bus-VA 207 Bus jct in Bowling Green.
VA 2 is quite poorly posted in the City of Fredericksburg today. When I moved there in 1996 it was still posted well with an END sign at VA 3 Business. Today, the last NB shield is at the VA 3 Bypass interchange. SB postings appear on Charles St at US 1 Business. Meanwhile, on US 1 SB at the Rappahannock River Bridge there is a VA 2 shield on a BGS saying VA 2 follows US 1-17 Business; trailblazers at the same intersection say VA 2 south begins straight ahead with US 1 Bypass SB (then there are no further VA 2 shields along US 1 Bypass).
Multiplexes: US 301 (33.85 mi)
US 301 Bus, VA 207 Bus (1.07 mi)
US 17 Bus (5.66 mi)
US 1 Bus, US 17 Bus (0.37 mi)
Old Truck Route: There used to be a posted VA 2 Truck Route posted in Fredericksburg, following US 1 Bypass south from the Rappahannock River to VA 3 Business east to Kenmore Ave to Charles St. There were a fair number of postings still up in the late 1990s. The completion of VA 3 Bypass made this specific routing unnecessary but no signs are up for routing VA 2 Truck traffic anywhere.
The CTB in the mid 1930s also prohibited through truck traffic on VA 2 from Fredericksburg to Richmond
Legislative names: Patrick Henry Highway, VA 54 to SR 638 (2-18-28 designation predates VA 2); Washington's Burgess Route, VA 30 to Fredericksburg (since 3-5-40); Washington-Rochambeau Highway, Hanover SR 605 to Caroline SR 651; also most of VA 2 north of Bowling Green (since 2-20-75); Blue Star Memorial Hwy, Richmond to Bowling Green (since 2-24-48)
Scenic Byway: no segments
Comment: VA 2 is still an excellent alternative from Richmond to Fredericksburg...few slowdowns other than Bowling Green and usually not much traffic.
The US 301 multiplex is a long overlap for Virginia, especially since it is "useless" as VA 2 does not continue past the south end of it.


VA 2
1933 Official


VA 2 extended out to US 1 ALT
1969 Spotsylvania County
Previous VA 2's:

1922 ROUTE LOG
NC STATE LINE, Begin VA 1: 0 - 0
VA 1 NB: 6 - 6
VA 12 EB: 16 - 22
VA 12 WB: 1 - 23
VA 20 CONN: 20 - 43
VA 20 WB: 1 - 44
VA 20 EB: 1 - 45
VA 10 EB, VA 13 EB: 24 - 69
VA 10 WB, VA 13 WB: 3 - 72
VA 19: 42 - 114
VA 2 SPUR: 15 - 129
VA 9 WB: 11 - 140
VA 9 EB: 2 - 142
VA 17: 4 - 146
VA 16: 9 - 155
VA 7 EB: 16 - 171
VA 7 WB: 1 - 172
VA 21 WB: 28 - 200
VA 21 EB: 50 ft - 200
VA 6 WB: 20 - 220
VA 6 EB: 6 - 226
MD STATE LINE: 23 - 249

VA 2 #1: Began in January 1918 as an original state route defined by the general assembly:

Route 2:Maryland Line, Leesburg, Aldie, Plains, Warrenton, Culpeper, Orange, Gordonsville, Palmyra, Dilwyn, Farmville, Keysville, Wyliesburg, North Carolina Line

A more detailed description from south to north:
VA 2 initially began where today's SR 822 enters Virginia from North Carolina near Soudan. SR 822 ends at Buggs Island Lake and VA 2 would've continued north. Driveable road picks up again with SR 821 Old National Hwy at the Merifield Wildlife Management Area. Alas, SR 821 ends at another arm of the lake. VA 2 picked up SR 1102 5th St on the other side into Clarksville.
As far as I can tell, VA 2 headed east on today's US 58 Business and crossed the Roanoke River in about the location of today's lake crossing. VA 2 then picked up US 15 to VA 49, then used abandoned routing to SR 701 northeast to Skipwith (except used SR 863 loop); then VA 2 followed SR 689 (except used SR 877 loop) to SR 688; VA 2 then used SR 688 to VA 92, then VA 92 to Chase City. VA 2 used 5th St/SR 600 west until it meets VA 92 near US 15. It followed VA 92 to SR 631 north to Jones Store and SR 624 east back to US 15. VA 2 followed US 15 through Wyliesburg, then US 15-360 northeast. A little past SR 628, VA 2 veered more northerly on abandoned routing, then picked up SR 713 Deuprees School Rd to VA 47, then Woodland Ln and Ferraro Ln northeast back to 15-360. After Walkers Store, VA 2 used SR 622 Old Kings Rd, then US 15-360 Business through Ontario.
VA 2 used 15-360 Business through Keysville except I believe it used SR 629 Southern Dr south of VA 40. VA 2 picked up mainline US 15 north of town into Prince Edward County. VA 2 more or less followed US 15 to Worsham except for a couple abandoned loops and SR 630/677 loop through Redd Shop.
VA 2 initially used SR 605 west, then SR 1003 and SR 692 through Hampden-Sydney College. It is unclear if VA 2 followed SR 658/643 to Farmville or current VA 133 back to the US 15 corridor. Regardless, VA 2 exited Farmville west along High St/Buffalo St over to US 15 Business. VA 2 used the length SR 695 over to Dowdy's Corner before heading north on US 15 to Buckingham County.
VA 2 followed US 15 north except used SR 689 loop near Sheppards; abandoned loop south of Curdsville; SR 600 loop; abandoned loops at Willis Mtn and north of SR 686; SR 750 Mingo Ln north of Sprouses Corner. In Dilwyn, VA 2 followed US 15 except SR 1010 Gold Mine St. VA 2 followed US 15 to the James River except it used SR 715 Circle Drive Rd and SR 796 Old 15 Rd. At New Canton, VA 2 used Sr 670 Banks Family Rd, then SR 687 Boat Landing Ln to the James River.
VA 2 crossed the James and continued north on SR 657 Bremo Bluff Rd. It is possible VA 2 used SR 666 and somehow connected back to US 15 further north but I cannot prove it. Otherwise, VA 2 used US 15 to Fork Union and Dixie. NOrth of VA 6, VA 2 folled 15 except abandoned old SR 691 loop; abandoned loop at Carys Creek; SR 673/649 loop at Fluvanna County High School; abandoned loops on both sides of 15 north of SR 649; VA 2 used 15 to near VA 53 but then ran on an alignment a little further west to cross the Rivanna River directly to SR 1001 Main St through Palmyra.


Original VA 2 in Southern Virginia
1922 Auto Trails

Original VA 2 Palmyra to Warrenton
1922 Auto Trails


North of Palmyra, VA 2 used US 15 except: SR 632/661 loop; SR 644 Friendship Rd; abandoned old SR 644 loop just south of SR 613; SR 644 Salem Church Rd/Poorhouse Ln (no longer connects back to US 15). VA 2 then veered northwest on SR 631 Troy Rd which used to connect directly to SR 689 Edgecombe Rd. VA 2 used SR 689 to SR 615. VA 2 followed SR 615 west, then north on Columbia Rd to VA 22. VA 2 headed east on VA 22 to Waldrop, then used SR 672 which used to connect to SR 603 back to US 15.
Approaching Gordonsville, VA 2 veered across the railroad (closed now) to use SR 729 S. Main St back to US 15-33 through town. VA 2 then headed north on US 15 except it used the SR 686 Thoroughbred Rd now-only-half-a-loop. Near Madison Run, VA 2 veered northeast through the Orange Livestock Market to connect directly to SR 647 Old Gordonsville Rd which VA 2 followed to Orange.
VA 2 used US 15, then VA 20 south, then VA 20 Business north back to US 15 to negotiate through Orange. North of town, VA 2 used 15 except SR 721 Bennetts Ford Rd; SR 723 Petersburg Rd; abandoned loop over Rapidan River using a bit of SR 659. In Madison County, VA 2 followed 15 except at Locust Dale it used SR 634 northwest, then abandoned road back east to 15 and Culpeper County.
VA 2 ran west of US 15 on what is now abandoned road from the Robinson River to SR 721, then used SR 721 White Oak Rd, SR 648 Cedar Ridge Rd; lenghty abandoned alignment along the tree line west of US 15; a section of SR 657 General Winder Rd; abandoned routing across US 15 to connect with SR 692 (at SR 649 jct) Old Orange Rd. VA 2 followed SR 692 for quite a distance before connecting back up with US 15 in the VA 299 area.
VA 2 followed US 15 Business into Culpeper but continued past VA 3 on Orange Rd directly to Main St. VA 2 used Main into central Culpeper, then used Piedmont St east to Clay St which turns into Old Brandy Rd. VA 2 followed this out to US 15-29 Bus, then at the current Bypass veered over to SR 684 Bel Pre Rd, then SR 663 Stevensburg Rd, then SR 700 and SR 669 Carrico Mills Rd into Brandy Station.
At SR 762, VA 2 headed northest to connect to SR 685 Fleetwood Heights Rd over to Elkwood, connecting directly to SR 755 Elkwood Rd (no road does this anymore) back over to US 15-29. VA 2 then veered over with US 15-29 Business and just after SR 673 veered onto abandoned alignment to cross the Rappahannock River directly to SR 1202 Willis Ave/River Rd back over to US 15-29 Business in Remington.
VA 2 followed 15-29 Bus to US 15-29, then used VA 28 northeast to US 17 near Bealeton. VA 2 then used both SR 837 loops along 17 north, then abandoned routing to about 500 ft short of SR 844. VA 2 then used US 17 to Opal, then US 15-17-29 north (possible it went 0.4 miles down SR 687 then northeast on abandoned road back to 15-17-29) to SR 800 Old Culpeper Rd which used to connect back to 15-17-29 just south of SR 616 Beach Rd.
Approaching Warrenton, VA 2 used US 15 Business to the courthouse, then Winchester St north to US 17 Business north out of town.

VA 2 followed US 17 except it used abandoned routing to the east at SR 628, then SR 860 at Cedar Run. VA 2 used the SR 777 loop but it is unclear if it ever used SR 699 Merry Oaks Rd. VA 2 picked up VA 245 through Old Tavern over to The Plains, then after a brief jaunt on VA 55, used SR 626 north to US 50 Middleburg.
VA 2 followed US 50 east through Aldie, then north on US 15. VA 2 followed 15 except for several visible abandoned alignments plus SR 899. It is unclear if VA 2 ever used SR 650 north to Leesburg or always the US 15 alignment. VA 2 used US 15 Business through Leesburg, then US 15 north through Lucketts. About 1/2 mile short of the Potomac River, VA 2 used a visible old alignment to the east that crossed 15 onto SR 672, then northeast to where it crossed the Potomac River into Maryland.


Original VA 2 in Northern Virginia
1922 Auto Trails

In Dec 1921 (CTB), Palmyra was removed from the description of VA 2 so that the CTB could consider other alternatives between Fork Union and Gordonsville. However, it appears VA 2 was never actually moved from Palmyra.
By the time VA 2 reached 1923, it was given a more direct routing from Clarksburg north to Wyliesburg: following US 15 to Bluestone Creek, then used these loops along US 15 to the Charlotte County line: SR 857 Mooresville Rd; SR 858 Oak Hill Dr; SR 859 Whitetail Rd; SR 700 Turkey Rd. In Charlotte County, VA 2 used US 15 north to past Redoak, then used SR 631 as before.
Also by 1923 it was using US 15's routing from Worsham to Farmville.
In 1923, VA 2 was renumbered as VA 32.
VA 2 CONN: Appeared in 1922 or 1923 as a legislative addition to the description of VA 2. It ran from VA 2 (current SR 689/615 jct) Zion Crossroads east along SR 615; US 250; SR 607 loop: SR 626 loop; SR 659 to SR 653/601 loop; Three Chopt-Shannon Hill Rd; SR 699 loops; SR 606 to Hadensville; SR 609 to East Leake; SR 700 loop; SR 634 loops; SR 702/636 loop; US 250 to end in Oilville.
In 1923, VA 2 CONN was renumbered as VA 321. The 1923 Official erroneous shows this still numbered as VA 2.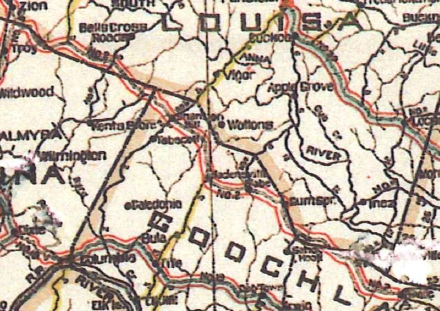 VA 2 CONN routing (this was VA 321 by this point)
1923 Official