Previous VA 1's:

1923 ROUTE LOG
NC STATE LINE: 0 - 0
VA 2 NB: 6 - 6
VA 12 WB: 11 - 17
VA 12 EB: 43 - 60
VA 10 WB: 37 - 97
VA 5 SB, VA 10 EB: 3 - 100
VA 13 WB, VA 20: 27 - 127
VA 5 END, VA 9 EB, VA 13 EB: 2 - 129
VA 9 WB: 28 - 157
VA 7, VA 8: 40 - 197
VA 6: 57 - 254
DC LINE: 8 - 262

VA 1: Created by the General Assembly in January 1918:

Washington DC, Lorton, Dumfries, Stafford CH, Fredericksburg, Chilesburg, Negro, Richmond, Petersburg, Dinwiddie, Warfield, Lawrenceville, South Hill, Clarksville, North Carolina Line

Here is a look at the original VA 1 from a geographical standpoint south to north using current route numbers as a guide:
VA 1 initially began where today's SR 822 enters Virginia from North Carolina near Soudan. SR 822 ends at Buggs Island Lake and VA 1 would've continued north. Driveable road picks up again with SR 821 Old National Hwy at the Merifield Wildlife Management Area. Alas, SR 821 ends at another arm of the lake. VA 1 picked up SR 1102 5th St on the other side into Clarksville.
As far as I can tell, VA 1 headed east on today's US 58 Business and crossed the Roanoke River in about the location of today's lake crossing. East of here it used some US 58 but also SR 783 through Finchley; likely SR 848 which no longer connects back to US 58 due to the lake; SR 756 into Boydton; one block of SR 707 north.
In Boydton, VA 1 picked up US 58 Business east to about the mainline US 58. VA 1 initially followed a road now abandoned save a small piece of SR 608 Ridge Rd that follwed the RR tracks closely (north side) until about the current US 58-VA 4 jct. VA 1 followed "Old Plank Rd" from here which is now SR 674 to Baskerville; SR 669 to SR 668 to SR 663 to SR 645 to SR 644 to SR 661 Lombardy Grove; SR 661 to South Hill.
VA 1 followed US 58 east past I-85 then followed High St to La Crosse. VA 1 cut north on SR 618 Main St, then east on Pine St out of La Crosse. VA 1 followed US 58 a little, then Watkins Rd/Lambert Ln to the Broadnax area. VA 1 continued along US 58 to SR 623 except it used Jones Circle Rd. VA 1 followed SR 623 to Diamond Grove, then SR 644 back to US 58 which VA 1 followed into Lawrenceville via US 58 Business (best as I can tell). VA 1 used SR 642 Poor House Rd north to Warfield, then SR 643 back to today's US 1. VA 1 then likely used SR SR 630 Waqua Creek Rd, then SR 629 back to US 1.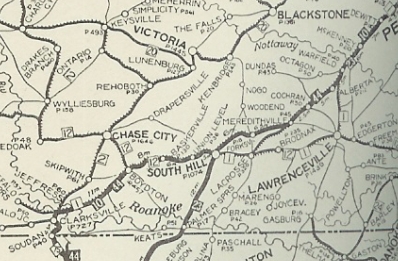 VA 1 routing in Southern Virginia
1922 Auto Trails
The 1921 Topo map shows VA 1 did not use SR 1009 into McKinney and was using US 1's corridor over to DeWitt except the SR 649/650 loop. It appears VA 1 followed US 1's corridor into western Petersburg. VA 1 used Washington St to Sycamore north ot Riverside east to current US 1's crossing of the Appomattox River.
VA 1 followed current US 1-301 to Richmond except it used SR 1625 in the VA 145 area and it used the Hull St bridge to cross the James River. VA 1 then headed west on Main, north on 9th, west on Broad, north on Adams, then north on Chamberlayne. VA 1 used Norwood west to Brook Rd north out of Richmond. VA 1 used Hungary Rd to Purcell Rd, then north through Glen Allen onto Old Washington Hwy which turns into SR 626 at Hanover County.
VA 1 used SR 626 to VA 54 (avoiding Ashland), then west (used SR 669-666 north of VA 54) to SR 686 Horseshoe Bridge Rd. VA 1 followed this to SR 785 west back to VA 54 at Negro Foot. VA 1 followed SR 671 to Coatesville, then SR 738 through Chilesburg to Snell.
VA 1 followed VA 208 and VA 208 Business through Spotsylvania CH and to Four Mile Fork except it used a destroyed loop just before the Ni River; SR 628/629 Smith Station Rd/Foster Rd loop; Ewell Rd east of I-95. VA 1 followed US 1 BUsiness into Fredericksburg and used Princess Anne St northwest out of downtown. VA 1 crossed the Rappahannock just west of the current US 1 bridge and used SR 607 up the hill to the current US 1/US 17 Bus split in Falmouth.
VA 1 used SR 627 Forbes St which no longer connects back to US 1 near the SR 8900 jct. VA 1 followed US 1 briefly, then used State Shop Rd, a bit of SR 628, and abandoned routing back across US 1 and a closed Accokeek Creek Bridge, then back across US 1 to pick up SR 742 back to US 1 into Stafford CH.
VA 1 used SR 631 Bells Hill Rd then abandoned routing to connect with SR 697 Derrick Ln. Past SR 610, VA 1 may have used today's SR 637 Telegraph Rd to Boswells Corner. VA 1 did use SR 660 to Quantico MCB, then used abandoned routing to connect onto Purvis Rd through Base Housing. At the point where Purvis Rd takes a hard turn to the east, VA 1 continued north on abandoned alignment to meet US 1 near SR 619.
VA 1 used SR 619 east, then Old Triangle Rd north from Traingle to Dumfries, then Graham Park Rd west to US 1 NB alignment, then Dr. David Kline Dr which no longer connects to US 1 SB alignment at Duke St in central Dumfries. VA 1 then used the US 1 SB alignment north, then the Old Stage Coach Rd loop to VA 234 jct. VA 1 then followed mostly abandoned loop routings along US 1's corridor.
VA 1 may have used SR 638 Neabsco Mills Rd, then Smoke Ln which ends at the I-95/SR 738 interchange. VA 1 likely used Telegraph Rd, Minnieville Rd, Old Bridge Rd, and Tanyard Hill Rd into Occoquan.
VA 1 used the US Bike 1 route accross the Occoquan River, then SR 722 up to VA 123. At the old Lorton Prison, VA 1 used SR 642 Lorton Rd back over to US 1. It appears VA 1 followed US 1 to Alexandria except it used parts of Meade Rd and Casey Rd at Ft Belvoir; Buckman Rd; Sherwood Hall/Fordson Rd.
VA 1 used Washington St through Alexandria, then powhatan St back to US 1. VA 1 then used Eads St in the Crystal City area, then crossed the Potomac very close to the current I-395 bridge.


VA 1 central VA
In Dec 1921 (CTB), VA 1 was rerouted at Lawrenceville to follow then-VA 12 (current SR 606) to Edgerton, then north along today's SR 712 through Smoky Ordinary to meet back up with the original route near the Nottoway River.
Also in Dec 1921, the CTB eliminated Negro Foot and Chilesburg from the description of VA 1 and instead said the route should pass to the west of Ashland then by the most feasible point to Spotsylvania CH and Fredericksburg. So VA 1 stopped heading to Glen Allen and instead followed what is generally US 1's corridor up to north of Ladysmith except: several discontinuous Telegraph Rd segments around the Chickahominy River area; SR 661 Old Telegraph Rd; SR 641 Ellets Crossing Rd; SR 788 Atkinson Rd; SR 694 Breedens Rd; SR 720 N. Telegraph Rd; SR 613 loop; SR 657 Telegraph Rd. VA 1 then legislatively veered northwest to Spotsylvania CH. The veering northwest was a concept and not an actual road.
By 1922, VA 1 was moved to the US 1 corridor into Woodbridge, using Easy St and SR 906 Occoquan Rd into Occoquan.
In 1923, VA 1 was renumbered as VA 32 from North Carolina to Clarksville; VA 324 from Clarksville to Boydton, remained VA 12 from Boydton to Edgerton and renumbered as VA 31 from Edgerton to Washington DC.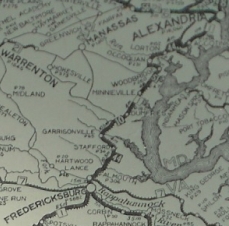 VA 1 routing in Northern Virginia
1922 Auto Trails