US 119
---
< US 117 | Home | US 121 >
US 19 | US 219 | US 319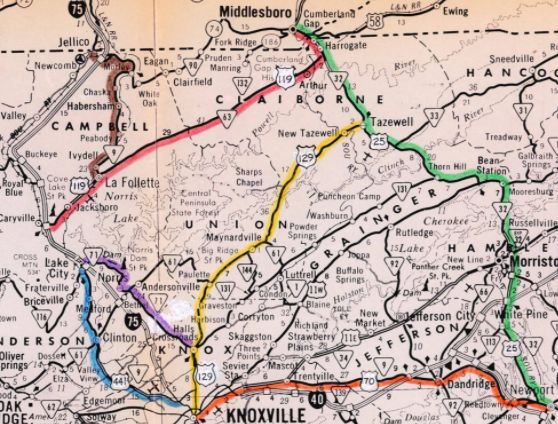 ---
Photo:
Tennessee tried to solve the US 25E-W dynamic
US 119 what happened to this good idea?
Previous US 119's:




US 119: In 1979, Tennessee and AASHTO had correspondence regarding eliminating US 25E-W suffixed routes. Both the Tennessee suggestion and the AASHTO tweaking had US 119 extended south from Pineville KY to Cumberland Gap, then southwest replacing TN 63 and US 25W to I-75 at Caryville TN. This would have carried through the same corner of southwest Virginia that US 25E did.
It is unclear whether Tennessee did not like the tweak (not having US 129 extended north to Tazewell TN) or if Kentucky wouldn't go along with getting rid of US 25W as a US route corridor.
At any rate, this US 119 extension never happened and even had it gone through, US 119 would no longer pass through Virginia anyway with the US 25E tunnel in place.
---
Previous: US 117 | Next: US 121
Top | Virginia Hwy Index Home
Page last modified 12 February 2022