I-795 #1: When the I-295 Richmond Beltway was redesigned to also bypass Petersburg in the mid 1970s, the plan also included building an interstate freeway west from the current south end of I-295 to I-85. Then I-85 would be re-routed onto this new freeway segment. Current I-85 north to Petersburg would have become I-385. I-295 would become I-95 and the original I-95 north to Petersburg would become I-795. I-385 and I-795 would have ended at the same interchange while the Richmond-Petersburg Tpk became a state route up to I-64 in Richmond. Although project numbers for I-295's completion heading southward all referenced I-95, when the new freeway reached I-95 it was continued to be signed as I-295. Virginia never did build the freeway segment west back to I-85.
I-795 #2: Appears on the 1988 official as a proposed road from US 301 across I-95 south of Petersburg east to US 460 across from VA 106. I-795 is not mentioned in the CTB, but the Wagner Road relocation DID have a 0795 project number in the June 1985 CTB Minutes where the design and location of the Wagner Rd relocation was confirmed.
The road ended up being built as a 4-lane divided highway and much later most of it became part of US 460.
I-795 also appears in the 1989 DeLorme Virginia Gazetteer.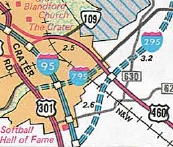 I-795 near Petersburg?
1988 Official