The Roads:
The current I-40 Business was the 2nd one created, in Nov 1992 (NCDOT) when I-40 was given its freeway bypass of Winston-Salem.
I-40 Business is of course 100% freeway. This is one of the older freeways in North Carolina, going back to the late 1950's.
Exit List:
EXIT 1: I-40, US 421 NORTH
EXIT 2: NC 67
EXIT 3A: Knollwood Rd
EXIT 3B: US 158 WEST
EXIT 4: Cloverdale Rd
EXIT 4B (WB only): SR 1507 1St St
EXIT 5A: NC 150 SOUTH
EXIT 5B: SR 3033 Broad St
EXIT 5C (WB only): SR 1725 Cherry St
EXIT 5D: SR 1824 Main St
EXIT 6: US 52, US 311, NC 8
EXIT 6C: Claremont Ave
EXIT 7: Lowery St (EB)/5th St (WB)
EXIT 8 (EB only): US 158 EAST
EXIT 10: SR 2662 Linville Rd
EXIT 14: S. Main St
EXIT 15: NC 66, NC 150 NORTH
EXIT 16 (EB only): SR 2045 E. Mountain St
NO EXIT # (EB only): I-40, US 421 SOUTH

I-40 Business through Winston-Salem and Kernersville
1999 Official
Now a look at the decommissioned I-40 Business routes:
The 1st I-40 Business was created in the mid-to-late 1980s, running everywhere on the Raleigh Beltline that I-40 did not.
Somebody figured out this didn't make a lot of sense so this was renumbered as I-440 in July 1991 (NCDOT).
No map of any sort has ever shown this and there have been no reports of it ever being posted in the field.
The 3rd I-40 Business was created in Feb 2008 (per interstate guide.com), as I-40 was placed on a bypass of Greensboro. The old route through Greensboro became I-40 Bus.
In Sept 2008 (per interstate guide.com), I-40 was returned to its original Greensboro routing, eliminating I-40 Business.
Although this was extremely short-lived, I-40 Bus was fully posted and even made it onto the 2008 Official Map. There are still some Green 40 shields up on Randleman Rd south at I-40 (see picture at top of page).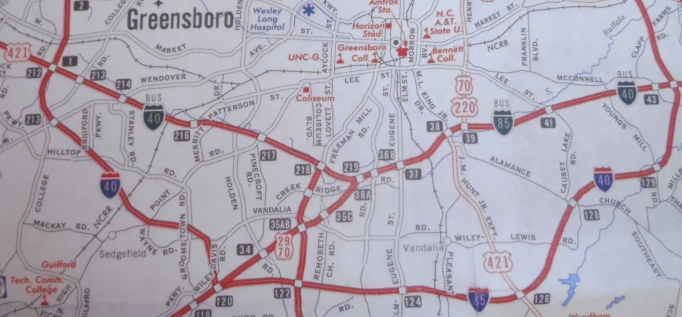 I-40 Business through Greensboro
2008 Official
---
Last Update: 2 November 2013

Previous: I-26 | Next: I-40 | I-140 | I-240 | I-440 | I-540 | I-640 | I-840 | I-44
Top | NCRoads.com Home