I-66:
I-66 #1: Requested by West Virginia as part of the 1970 additions to the Interstate System (see map graphic here). It was proposed to run from I-79 Weston east to the Virginia line near Strasburg. There was no corresponding request from Virginia which certainly didn't help. The request was denied, but this is generally the original route of Corridor H (since rerouted further north between Elkins and Baker) which provides a good high speed route in the region (even if not fully finished yet).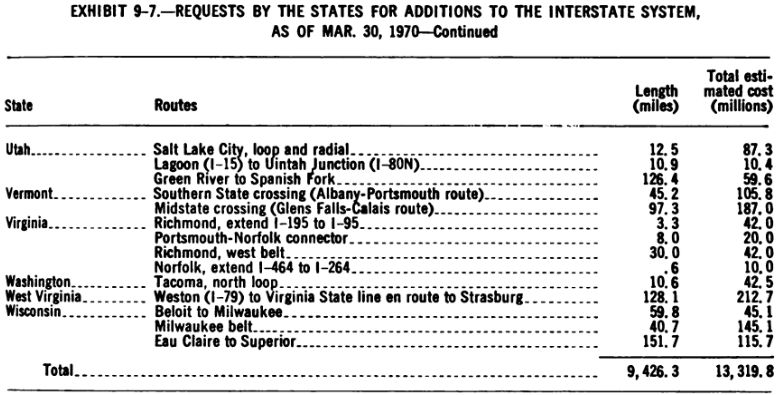 I-66 extension proposal from West Virginia
April 1970 Congressional Hearing on the status of the Federal-aid highway program


I-66 #2: The origin of another I-66 coming to West Virginia is the Intermodal Surface Transportation Efficiency Act of 1991 which established the East-West Transamerica Corridor as a high priority corridor on the national highway system. The corridor had no specific endpoints or routing parameters, but a separate item within the Act did name it I-66. Both the Washington Post and the FHWA said this corridor was California to Virginia with no details at all.
The 1994 feasibility study of the entire corridor funded by the ISTEA 1991 demonstrated that only the Kentucky portion had potential immediate benefit given the cost.
The National Highway System Designation Act of 1995 added a description of the route to be as follows:
"commencing on the Atlantic Coast in the Hampton Roads area going westward across Virginia to the vicinity of Lynchburg, Virginia, continuing west to serve Roanoke and then to a West Virginia corridor centered around Beckley to Welch as part of the Coalfields Expressway described in section 1069(v), then to Williamson sharing a common corridor with the 1-73/74 Corridor (referred to in item 12 of the table contained in subsection (f)), then to a Kentucky Corridor centered on the cities of Pikeville, Jenkins, Hazard, London, Somerset, Columbia, Bowling Green, Hopkinsville, Benton, and Paducah, into Illinois, and into Missouri and exiting western Missouri and moving westward across southern Kansas"
This new description suggested I-66 would traverse a large chunk of south central West Virginia.
Kentucky initiated plannig and design on its portions of I-66, which included the segment from the Pikeville KY area to US 52 east of Williamson. This culminated in the 2003 EIS which showed the preferred alternative for I-66 to enter West Virginia near Matewan and meet the King Coal Highway near Varney WV, which is a little east of WV 65 on the new US 52 alignment that has been completed.
Kentucky completed a feasibility study in 2005 that decided the I-66 concept across their state was not economically viable, which cancelled anything related to I-66 in West Virginia.
In theory no part of I-66 in the Transamerica Corridor is still alive, though the current version of the priority corridor designations in ISTEA 1991 does still define the Louie Nunn Pkwy specifically as I-66 (while redesignating other parts of the corridor as parts of I-69 and spurs).
Like I-73/74, it appears West Virginia was in no hurry to build anything other than expressways instead of interstate highways, as the 2003 EIS says the West Virginia side was being designed to an expressway standard. This means that I-66 may not have been signed in West Virginia anyway?
At no point does anything suggest this I-66 would connect with current I-66 from Washington DC to I-81 Strasburg VA well north of all this, nor have I seen anything that suggests Virginia was looking at any point to build an interstae that would connect Norfolk-Lynchburg-Roanoke into West Virginia.