ROUTE LOG
VA 180: 0 - 0
SR 624: 0.55 - 0.55

Creation: Appeared Aug 1933 (CTB) as new routing, running as it does today.
Adjustments: The 1933 CTB and County maps though at least 1961 show VA 180Y as 0.50 miles. It is unclear when or how it is now 0.55 miles. Perhaps SR 624 was reworked to make 180Y a skosh longer.
Improvements: Paved upon designation; no multilane segments
Posting: Not posted from VA 180 or SR 624. However there is one reassurance shield leaving VA 180. At cross streets through Wachapreague, there are white rectangles with 180 (no Y).
Multiplexes: None
Legislative names: None
Other names: Brooklyn Ave/Richardson Ave
Scenic Byway: No segments
Comment: VA 180Y is shown but not labeled on 1930s officials.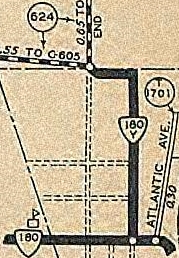 VA 180-Y
1936 Accomack County