NC 211-A #1: Appeared between 1945-49 as a new designation. Ran as a cutoff between NC 211 (now just N Elm St) and US 301 (now just Pine St) in northern Lumberton.
NC 211-A most likely went away when NC 211 was given its Lumberton Bypass in 1956 or 1957. Today it is just E. 24th St.
NC 211-A #2?: When NC 211 moved to its bypass of Lumberton, maps are ambiguous whether the old routing, shown as NC 211 Business on 1963 and 1968 Robeson County maps, became NC 211-A. The 1957 Robeson County map shows nothing, but state official maps of 1957-59 imply the route remained in the primary system. If it did exist, it was renumbered as NC 211 Business in 1960. Today it is 2nd St and Elm St.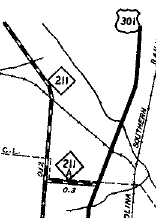 The NC 211A that I can prove