Creation: No mention in the CTB that I can find. I know of no other modern VA 318, so this could go back to the late 1930s. Started out as the driveway from 9th St to the State Capitol Complex. This is the 2nd VA 318.
Adjustments: In Dec 2019 (CTB), 4 segments of City of Richmond streets were placed into the primary system due to a 2019 Act of the General Assembly to facilitate pedestrian safety during a large amount of construction and renovations to the seat of government. Though no number was specified it makes the most sense that these additions are a part of VA 318. This is confirmed on the VDOT arcgis map:
Bank St from 9th to 14th - 0.3 mi
10th from Main to Bank - 0.04 mi
12th from Main to Bank - 0.04 mi
Governor St from Main to Bank - 0.04 mi
Posting: None
Improvements: Fully paved; Bank St is multilane between Governor and 14th; 12th St is paved with older brick
Comment: Shown on the late Gousha map of Richmond and VDOT city atlas only.
With the 2019 additions VA 318 now touches another primary system route, US 60/VA 147 which runs along Main St
You can't drive the original VA 318 segment unless you have the right pass. I drove this by heading north on 9th street and turning right into the driveway. I said I made a wrong turn, and the guard had me drive the circle driveway to turn around to leave. Of course, that was in 1996. I'm not sure that would work in today's security climate.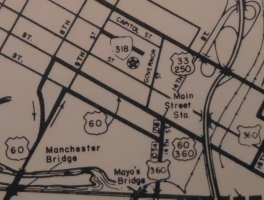 VA 318's initial routing
1975 Henrico County
Previous VA 318's:

1932 ROUTE LOG
US 501, VA 20: 0 - 0
US 60, VA 10: 11.5 - 11.5

VA 318 #1: A newly numbered route created in December 1930 (CTB Minutes). Ran from US 501 (curr US 360) Green Bay 5.53 miles towards US 60 (curr US 460) east of Farmville.
In July 1932 (CTB Minutes), VA 318 was extended to US 60 (current US 460).
VA 318 was renumbered as VA 135 in July 1933. Today this is SR 696.

VA 318 north out of Green Bay
1931 Official


VA 318 extended to US 60
1931 Official


VA 318 renumbered as VA 135
1933 Official