In 1933, 311 was extended further south of West End, through Pinehurst, Aberdeen and Laurinburg all the way to Rowland, near the S.C. line. It was posted over that era's N.C. 241. Map #1 shows this routing. This was 311's finest hour; the road would only be this long for about a year.

With the great renumbering of 1934, 311 was substantially shortened. U.S. 220 was born that year, and it superseded all of 311 south of Randleman and north of Madison. Further south, 311 was superseded by extensions of N.C. 2 (Candor to Pinehurst; this is now N.C. 211) and U.S. 501 (Pinehurst to Rowland).

By 1952, 311 through W-S was rerouted to the east of its original alignment. Approaching town from High Point, 311 was signed over Waughtown Road, Stadium Drive, Claremont Avenue and 7th Street before hitting New Walkertown Road. Map #2 shows this routing, which lasted for more than 40 years.
Later, Stadium and Claremont would be renamed MLK Jr. Drive, and 7th Street would be renamed as an extension of New Walkertown Road.

In the mid-1980s, the freeway through southeastern Forsyth County opened. 311 was signed over it at that time, and the U.S. route's old alignment, Waughtown Road and Forsyth's High Point Road, went unnumbered. (High Point Road in Forsyth County should not be confused with High Point Road in Guilford County, which was once U.S. 29/70). Between the freeway and Stadium Drive, 311 ran over Thomasville Road.
Part of this freeway, the Corporation Parkway is now shared by I-40. But it predates the rest of 40's southern bypass of W-S by several years.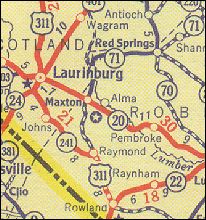 1.
1933 Gousha map
---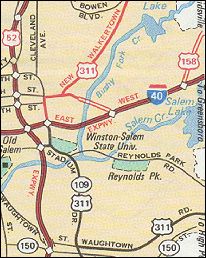 2.
1980 AAA map