The Road:

The 1st NC 130 Business was created in 1966, when NC 130 was given its bypass of Fairmont using SR 2446, a bit of new construction and SR 2235. The old route became NC 130 Business.
NC 130 Business uses Iona St, Main St (NC 41), and Cottage St through town. The west half was originally NC 71 and the east half was originally NC 72.
The 2nd NC 130 Business was born Feb 2012 (NCDOT) when NC 130 was placed on the Smith Rd Extension in Shalotte.
NC 130 through Fairmont
1962 Robeson County

NC 130 bypasses Fairmont
1968 Robeson County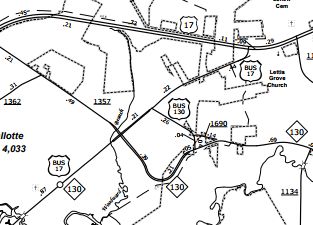 NC 130 Business #2 is assigned
2017 Brunswick County