Formerly:

NC 117: Appeared mid-1931 as new primary routing, running from US 70/NC 10 (now NC 55) Jasper west to Dover using SR 1245 Old Dover Rd, SR 1256 North Main St and SR 1005 Sunset Blvd.
In 1932, NC 117 was extended west as new routing through Kinston and Mount Olive before ending at NC 102 (now SR 1703) Newton Grove. It utilized more Sunset Blvd, US 70, US 258, SR 1341 to Jacksons Store, NC 55 to Wayne County, SR 1744 Indian Springs Rd, NC 55 to mt. olive. in Mt. Olive, NC 117 used SR 1147 Smith Chapel Hwy, SR 1141-1004 Main St, and SR 1969 Church St.
In late 1934, NC 117 was renumbered as part of NC 55.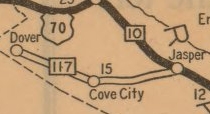 NC 117 appears only to Dover


NC 117 extended to Newton Grove


NC 55 replacing NC 117