Formerly:

NC 44 #1: Born in 1930 as new primary routing. Ran from US 17-1/NC 40 (current US 301) Whitakers southeast to NC 90 (now part of NC 33) Tarboro.
In 1935, NC 44 was extended east through Tarboro with US 64 to Princeville, then as new primary routing to end at NC 125 Oak City.
In 1941, NC 44 was extended west as new primary routing to end at NC 48.
In 1942, NC 11 was rerouted to its current Oak City approach, which included NC 44's last 1/2 mile. County maps in 1962 and 1968 explicitly show a NC 11-44 duplex, which I assume lasted until NC 42 was placed on NC 11 through the area in the 1970s.
In 1967 or 1968, NC 44 was placed on the new US 64 Tarboro bypass (current US 64-A). The road through Tarboro became US 64 Business (now it is NC 33).
In 1994, NC 44 was renumbered as NC 33 from NC 48 to Tarboro and NC 111 from Princeville to Oak City. The Tarboro Bypass became US 64-A.

NC 44 appears in 1930
1930 Official


NC 44 extended to Oak City
1935 Gousha


NC 44 through Tarboro
1963 Edgecombe County


NC 44 moved to new bypass
1968 Edgecombe County


NC 33 and NC 111 replace NC 44
1999 Official
NC 44 #2: created in December 2007 (NCDOT) and assigned to the new freeway constructed from I-795 east to SR 1556 Wayne Memorial Drive north of Goldsboro. Per Adam Prince blogpost, NC 44 actually opened to traffic in mid-December 2011.
In Oct 2015, NC 44 was extended west to US 70. Per Adam Prince it opened as signed NC 44 east bound but US 70 Bypass westbound leaving I-795
In May 2016, NC 44 was eliminated when the remainder of the US 70 freeway opened to traffic. This freeway will also eventually become I-42.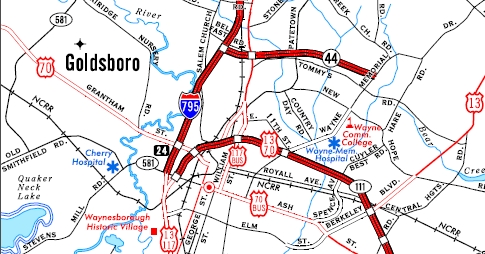 NC 44 off I-795 in the Goldsboro area
2013 Official